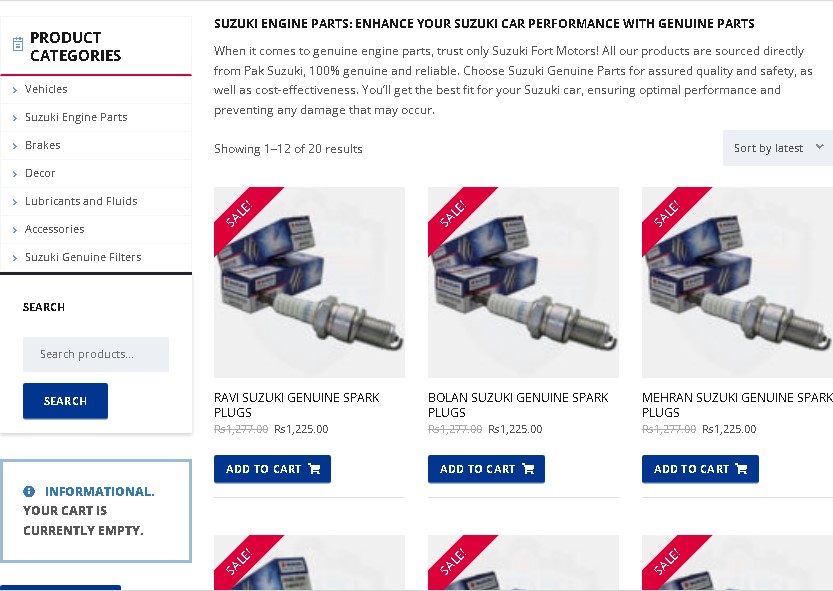 Introduction:
If you own a Suzuki vehicle, you know how important it is to keep it running smoothly. One of the key ways to ensure this is to use genuine Suzuki parts for any repairs or maintenance you might need. By using authentic parts, you can ensure that your vehicle is functioning at its best and that you're keeping it in the best possible condition.
Fortunately, finding Suzuki genuine parts online in Multan doesn't have to be difficult – and in this post, we'll show you how.
Why Use Genuine Suzuki Parts?
Before we dive into where to find genuine Suzuki parts online in Multan, it's important to understand why it's so important to use authentic parts in the first place.
Genuine parts are designed specifically for your make and model of vehicle, and they're produced to the same high standards as the parts that came with your car when it rolled off the assembly line.
That means you can be confident that they'll fit seamlessly and work exactly as they should, giving you the best possible performance and longevity from your car.
Where to Find Suzuki Genuine Parts Online in Multan
Thankfully, finding genuine Suzuki parts in Multan is easier than ever before. Many authorized dealers and service centers offer online parts ordering options, which means you can order the parts you need from the comfort of your own home and have them delivered right to your doorstep.
To get started, check out the official Suzuki Pakistan website – they offer a convenient online parts ordering system that allows you to easily select the parts you need and have them shipped to your preferred dealer. Alternatively, you can also check out other authorized dealerships such as Al-Rehman Auto Parts and Suzuki Multan Motors.
Don't Settle for Substandard Parts
While it may be tempting to opt for cheaper, aftermarket parts instead of buying genuine Suzuki parts, we can't recommend doing so. Aftermarket parts are not made to the same high standards as genuine parts, and they may not fit or function as well.
In some cases, they may even damage your car or cause unexpected problems down the line. It's always worth investing in genuine parts if you want to keep your Suzuki running smoothly and prevent potential issues from cropping up.
Conclusion:
At the end of the day, keeping your Suzuki running smoothly and reliably is a top priority – and using genuine Suzuki parts is a key part of that. Whether you're in need of replacement parts, accessories, or maintenance supplies, you can find what you need with ease when you shop online with authorized Suzuki dealers in Multan.
By doing so, you can be sure you're getting high-quality, dependable parts that will keep your vehicle in top shape for years to come.
Click Here to see all Suzuki Genuine Products.